LCFT Member Jack Wilson Gets National Honor!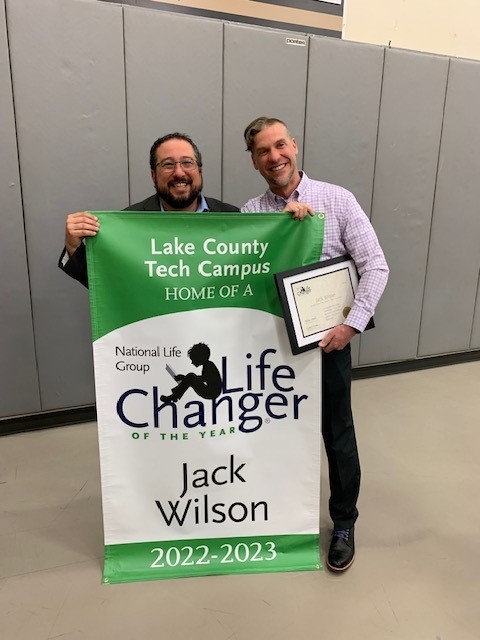 LCFT would like to congratulate our union brother, Jack Wilson, on receiving the LifeChanger of the Year award.
LifeChanger of the Year is an annual national program recognizing K-12 educators and school employees across the country. It celebrates those who are making a significant difference in the lives of students by exemplifying excellence, positive influence and leadership.
The Tech Campus is regarded as one of the Midwest's best career and technical education training facilities. With twenty-two member high schools throughout Lake and McHenry Counties, representing nearly 1,800 high school students, the Tech Campus has the largest career technical secondary educational system in Illinois.
After working in the automotive industry for several years and becoming a Master Automotive Technician, Mr. Wilson applied to become a teacher at Tech Campus. He has been teaching Automotive Service for about 15 years and has served as Teachers' Union President for the last four years.
Mr. Wilson quickly discovered that teaching was his passion and, while working full time, continued his post-secondary education as well. In 2012, Mr. Wilson earned his Bachelor of Science in Career and Technical Education and a teacher licensure from Southern Illinois University-Carbondale. His dedication to providing students with excellent education has grown throughout his career at Tech Campus.
Mr. Wilson has contributed to developing a professional and positive atmosphere in multiple ways. In the classroom, he models real-life customer service skills for his students and provides real-life examples. If you were observing his classroom, you would see Mr. Wilson demonstrating respect, responsibility, and honesty to his students. He gets tactical with his students, showing activities and teaching students how to problem-solve through real-world examples.
Mr. Wilson goes beyond his job requirements and shares scholarship information, educational opportunities, and outside resources with his students, parents, and other staff. Once a month, his second-year Automotive students participate in Tune-Up Tuesday, a monthly opportunity for second-year Automotive Service students to perform basic car maintenance. Mr. Wilson coordinates with staff on the desired work to be completed and then helps to order the necessary materials. Tune-Up Tuesday provides students with a real-world work application. It also contributes to a positive atmosphere among staff; they can have their vehicles serviced while working and can interact with students in a positive way.
Mr. Wilson drives creativity into his work to solve complex problems and deliver positive outcomes. During the COVID pandemic, he created a virtual-education fair for his students and parents. Mr. Wilson worked with unions, trade schools, two-year schools, and four-year universities to discuss career and educational paths. His idea created measurable engagement among attendees and their parents.
Mr. Wilson travels to local companies to gain support and resources for his program and school. With his networking and leadership skills, Mr. Wilson developed a program where community members could buy raffle tickets to try and win a 2011 Chevy Equinox repaired by Automotive Service and Collision students. The proceeds provided four student-tool scholarships and raised money for a local charity; the scholarships included essential hand tools valued at $1,800.
Mr. Wilson has also worked with Sue Dickson, a local business owner, to create the Give Me Ten Internship Training Program. The program asks that local companies provide students with ten hours of internship training. This program allows the student, teacher, and business to assess the student's skills and decide whether this could be a potential place of employment. Almost all his students who participated in the program were offered an extended internship, and a few received job offers.
This program became the foundation for the Tech 3 Work-Based Learning Program that Tech Campus is working to build for all students. Mr. Wilson and Ms. Dickson presented at the Association for Career and Technical Education's National Conference in December to attendees from secondary and post-secondary schools, business leaders, and industry professionals about the program they developed. Audience engagement was strong, and they continue to have dialogue with attendees. Their underlying goal is to help develop skilled young adults that the workforce and post-secondary education desperately need.
Mr. Wilson cares deeply about his role at school and the lives and careers of his students. His leadership and commitment have served to create programs that drive success. Tech Campus is lucky to have someone so enthusiastic about making a beneficial difference in the lives of its students.
"Trying to adequately describe all of the different ways that Jack Wilson is a great teacher made me realize how valuable his diverse experience and dynamic skills are to our organization," said Emmerling. "It is my absolute pleasure to recommend Jack for the LifeChanger of the Year Award!"