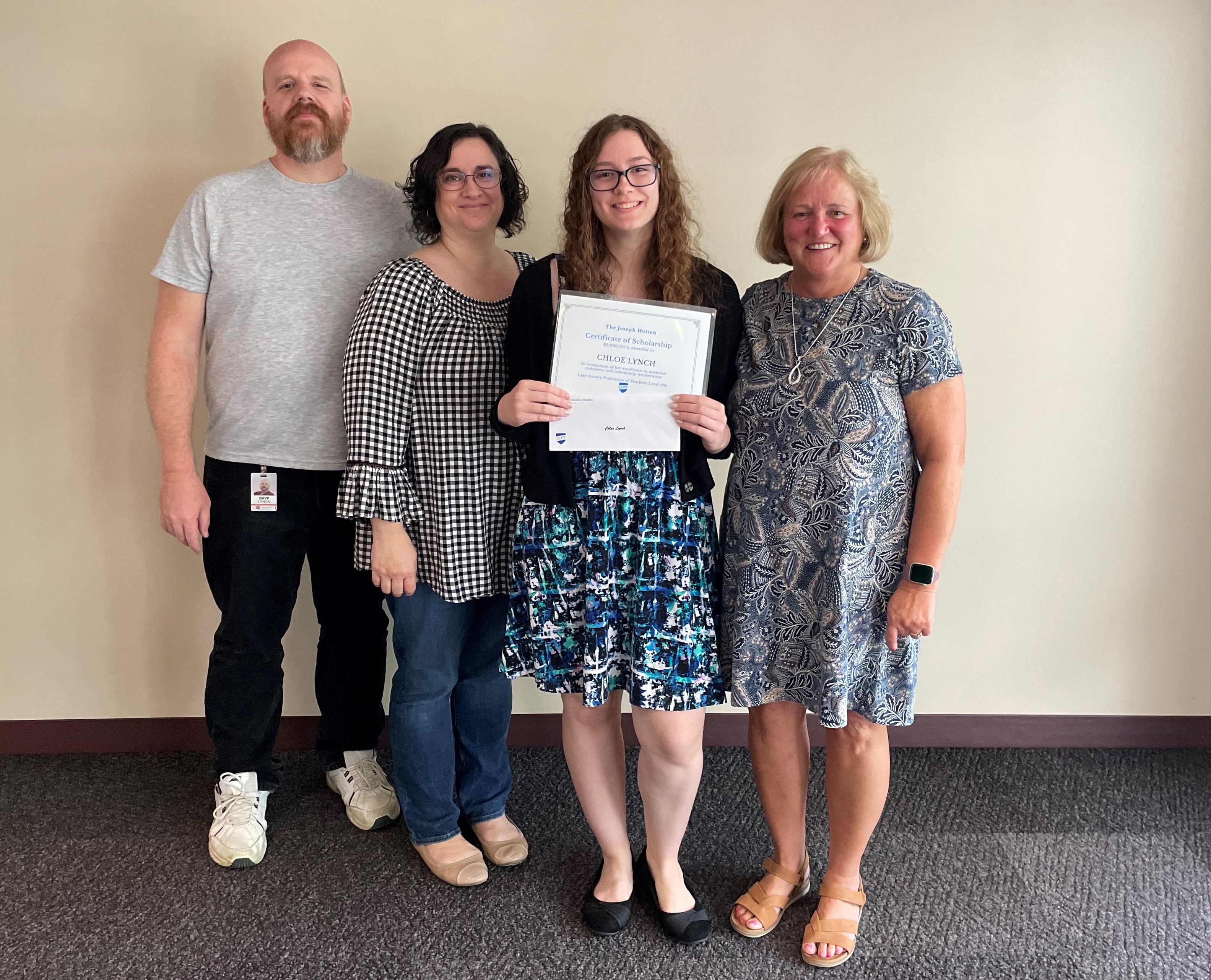 Congratulations to the 2023 Joe Hutton Scholarship winner, Chloe Lynch. Chloe is a Warren High school student who is pursuing a degree in education. Chloe is pictured above with her parents and Diane Elfering, Local 504 Scholarship Chair.
The Lake County Federation of Teachers Local 504 offers the annual Joe Hutten Scholarship to any Lake County Illinois public school graduate who is attending an Illinois Public Higher Education school.
The Lake County Federation of Teachers established the Joe Hutten Scholarship to honor the late educator and union activist. Hutten was a business teacher at Zion-Benton High School and he was a key organizer for the Zion-Benton Federation of Teachers. Hutten was thrilled when Zion-Benton became a part of the Union because he felt that Local 504 was teacher oriented. He was a dedicated Union member who regularly attended Union meetings, IFT & AFT conventions and reported back to the Local 504 Executive Board. Joe loved his family, students and Union.
$2,000 Scholarship Awarded One Time per Year
2024 Application Information Announced Later.
The Joe Hutten Scholarship Application can be found here.
Recipient Requirements
Must intend to or be attending a 2 or 4 year Illinois Public Higher Education Institution.
Must provide proof of applying and/or acceptance to an Illinois Higher Education Institution.

Must have attended or be attending a Lake County, Illinois Public High School.

Attach a one-page essay describing your educational and career goals. Feel free to include any other information you would like the committee to know about you.

Must submit a complete application and meet all deadlines.

Must provide a current High School Transcript or College Transcript.

Provide at least one, but no more than three letters of recommendation.

Provide a resume that includes any extracurricular activities, community service and job experience.
---
The Illinois Federation of Teachers annually offers scholarships to its members and the dependents of its members. Applications and details about the Mengel Scholarship and the Porter Scholarship can be found by clicking the website below.
http://www.ift-aft.org/about/scholarships.htm
---
The AFL-CIO offers scholarships through its Union Plus Scholarship Program to current and retired members of participating unions, their spouses and their dependent children. These scholarship amounts range from $500 to $4,000. Details and the application can be found by clicking the website below.
https://www.unionplus.org/benefits/education/union-plus-scholarships
Page Last Updated: May 22, 2023 (10:55:30)